The Arc Middlesex County and COVID-19 (6/16/2022)
The Arc Middlesex County has vigorously provided a safe and healthy environment to our participants and staff since the onset of COVID-19 in March 2020. Since the onset of COVID-19, our Safety Committee has met on regular basis to ensure that our organization was headed in the right direction of the unknown. Due to the impact of COVID-19, we have purchased and warehoused an assortment of Personal Protective Equipment (PPE), Cleaning Supplies, Antibacterial Soaps, and Hand Sanitizers.   
As an organization, we continue to keep our participants and staff members safe and healthy. The leadership was kept informed by attending a 'Weekly Conference Call' where we provided organizational updates as well as updates coming from the office of Governor Phil Murphy.  All efforts are made to maintain the highest level of care; thus the decisions and guidance during the pandemic needed to be continually reassessed and restored to the conventional standard whenever possible.  
Established Screening, Symptom Monitoring, and Testing Protocol 
Staff members are screened daily prior to entering any of the programs. The screening process is followed per the protocol set forth by the Department of Human Services (DHS). Travel advisories are updated as the changes are made on the New Jersey COVID-19 information HUB website and the CDC website. All employees are advised to contact the participant's Primary Care Physician for signs and symptoms of COVID-19. All employees are instructed to notify Human Resources if they are experiencing any signs or symptoms of COVID-19. Any participant with exposure to someone who has tested positive for COVID-19 will be tested and any instructions from their healthcare providers will be followed.  
Any staff with exposure to someone positive will be required to be tested. If no symptoms are showing, they may work but are limited to one program. Employees must also follow the instructions of their healthcare providers.  
Staff Training 
All Arc Middlesex County employees were trained on the COVID-19 protocols including for travel.  Therap (client database system) allowed for "Splash" messages to be posted at login.  These were used to keep information fresh and relevant.   
Supporting Participants, Families, and Staff During and After the Pandemic 
The Arc Middlesex County will continue to keep our families informed of the steps that are being taken to keep their loved ones safe and healthy. This information will be shared with the families via communication by the Manager and/or Assistant Director or other designated leader within the organization.  
---
Campaign to Include the Disability Community in Pandemic Response Legislation
As you know, legislation continues to move through Congress to respond to the COVID-19 pandemic. It is essential that this legislation includes provisions to support people with disabilities, family caregivers, and the direct support professional workforce.
We know people with disabilities will be disproportionally impacted, and we are worried we are being left out.
The Arc is launching a campaign called #WeAreEssential and asking chapters across the country to help us promote this critical message. We know this is a very challenging time for your chapter and taking on another task is a big ask—we hope you find these materials to be impactful and easy to implement at this critical advocacy moment.
We have developed a toolkit for chapters, which includes:
Action alerts (call, email, and tweet)

A video campaign asking people to take videos of themselves answering a prompt and using the

#WeAreEssential

hashtag

Sample letters to the editor

Sample social media posts and graphics
Instructions for Download
Open the link provided and choose one of the following options:
OPTION A: Download a zip file of all assets.

Click "download" in the top right corner.

OPTION B: Download only the files you want.

Click the file you want to download.

Click the down arrow to save the file.
Please use these materials to continue to spread the word in your communities. We are so grateful for all of your advocacy! Please keep up the messages to Congress!
You can contact Claire Manning, Director of Advocacy & Mobilization, at manning@thearc.org with any questions about the toolkit. 
---
COVID-19 Update (March 23, 2020)
Dear Members of The Arc Family: The Arc Middlesex County continues to respond to the evolving Coronavirus situation based on daily information from federal and state authorities. A review of all responses is made daily against the most recent guidance available. To that end, please be aware of the following:
Current Closures:
Adult Day Programs (Career Centers) are currently closed until further notice

Afterschool programs are suspended until further notice

Saturday program suspended until further notice

Supported Employment program only conducting phone consult

Our Enrichment program is suspended
Ongoing Services:
Residential Services: No outside visitors; only essential community activities

Administrative Support: The main office is open with limited hours, staggered, and remote staffing; only essential visitors 
Thank you to everyone especially our Direct Support Professionals who are reporting to work every day to support our participants living in our residential services. As most of you are aware, this is a tremendous undertaking in the middle of a  public health crisis. Please know that our staff members are taking all of the necessary safety precautions as I am certain are all of you.
Working together and supporting each other, we will be a stronger Arc family. Wishing you continued good health.
Frank Adu
CEO
---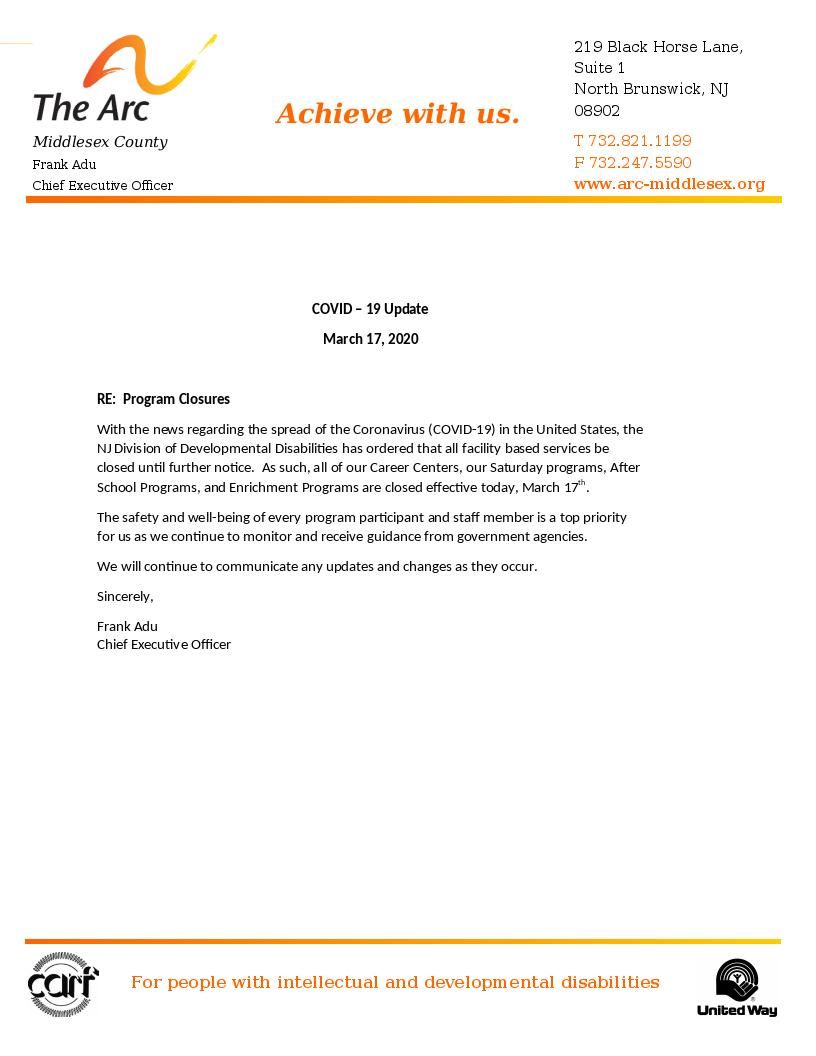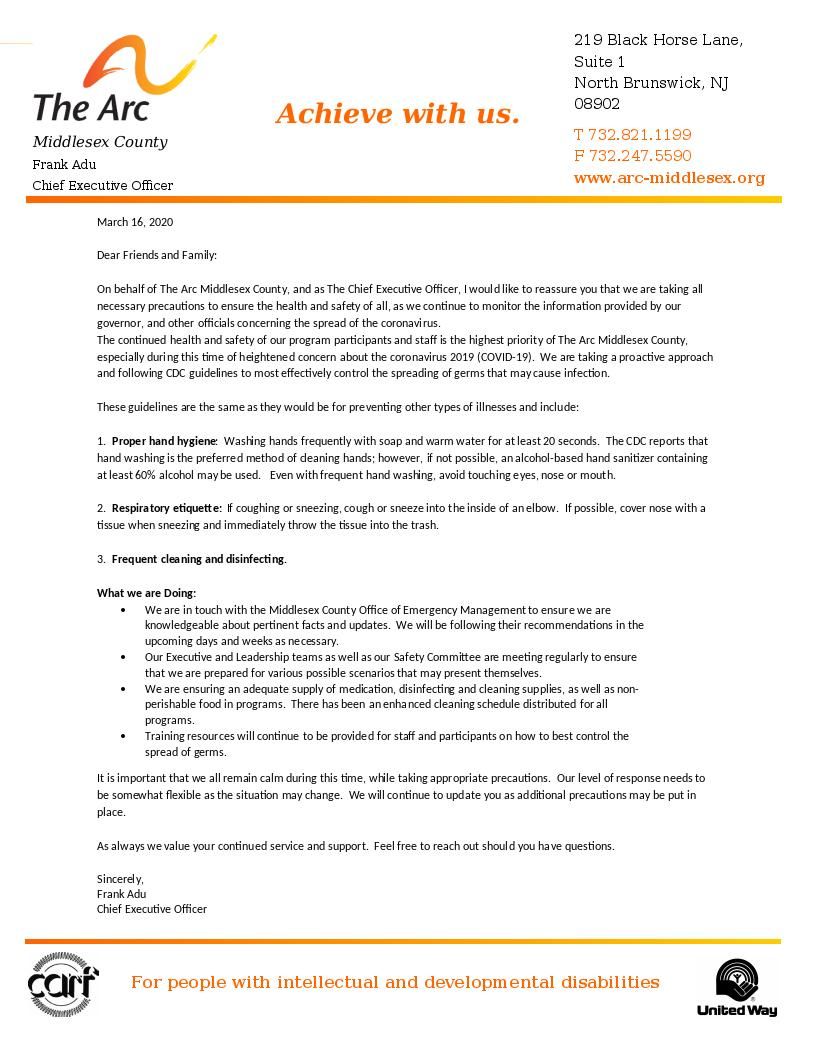 The Arc Middlesex County encourages you to join us in monitoring state and national public health websites for the most up to date information and guidance.